Alaskan Adventure: Tanaku Lodge, Part 1
Back in the summer of 2011, I had the pleasure of visiting Tanaku Lodge in Elfin Cove, Alaska. The trip was set up by my longtime outdoors buddy, Capt. Jerry McGrath who promised it would be the adventure of a lifetime. He wasn't kidding, as you can judge from these gallery photos.
In addition to fabulous fishing for halibut, salmon, lingcod, rockfish and various sea bass species, the other anglers, skippers and crews were simply terrific, the lodging was superior, and the dining was as good as it ever gets. This is a first-class operation all around – but you've probably already heard that from other anglers lucky enough to have wet a line here. Without further praise then, I'll let a few snapshots tell the story.
I'll be adding a second Tanaku photo gallery that includes some wicked freshwater river fishing shots of salmon and trout, a nasty looking toothy flounder, plus some wildlife and scenic shots – so be sure to check back when you get a chance. In the meantime, simply click on any photo in this gallery for an expanded view. Enjoy. – TS.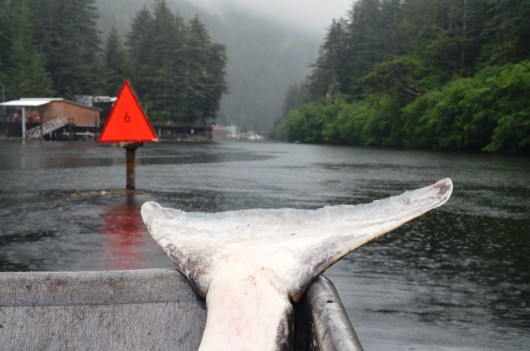 Idyllic settings and tales of halibut you'll be proud to tell. Alaska's Tanaku Lodge offers amazing fishing, great lodging and fantastic meals. Daily rain gear is included in the package.