Alaskan Adventure, Tanaku Lodge, Part 2
Back in the summer of 2011, I had the pleasure of visiting Tanaku Lodge in Elfin Cove, Alaska. The trip was set up by my longtime outdoors buddy, Capt. Jerry McGrath who promised it would be the adventure of a lifetime. He wasn't kidding, as you can judge from these gallery photos.
In addition to fabulous fishing for halibut, salmon, lingcod, rockfish and various sea bass species, the other anglers, skippers and crews were simply terrific, the lodging was superior, and the dining was as good as it ever gets. This is a first-class operation all around – but you've probably already heard that from other anglers lucky enough to have wet a line here.
In a previous photo gallery, Tanaku, Alaska, Part 1, I highlighted the rock star species of my Alaska experience. Here's a look at some of the other fun stuff we caught and saw including river salmon, sea bass, toothy flounder, whales, sea otter and other wildlife. Simply select any photo in this gallery for an expanded view. Enjoy. – TS.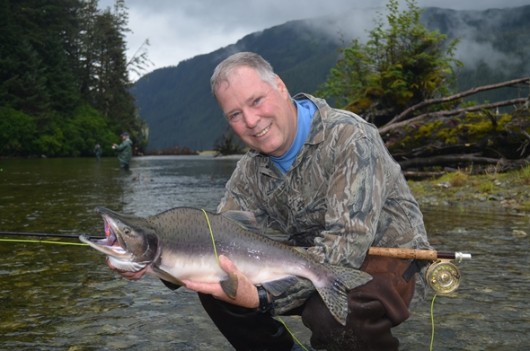 The river fishing for salmon out of Tanaku Lodge was simple amazing. We ran about 40 minutes up the Inside Passage to reach this shallow river which was absolutely filled with fish. With my flyrod and some spectacular scenery, I was in heaven and caught pinks and silvers until my arms were ready to fall off.